CXF Tutorial With Apache Maven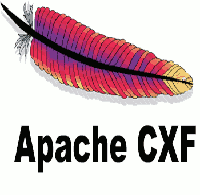 In this tutorial, we are implementing a jax-ws web service using Apache CXF with Maven and deployed in Tomcat.
Apache CXF is a free and open source project, and a fully featured Web service framework. It helps you building web services using different front-end API's, like as JAX-RS and JAX-WS.
Services will talk different protocols such as SOAP, RESTful HTTP, CORBA & XML/HTTP and work with different transports like JMS, HTTP or JBI.
pom.xml
You need to have following dependencies
<?xml version="1.0" encoding="UTF-8"?>

<project
	xmlns="http://maven.apache.org/POM/4.0.0"
	xmlns:xsi="http://www.w3.org/2001/XMLSchema-instance"
	xsi:schemaLocation="http://maven.apache.org/POM/4.0.0 http://maven.apache.org/xsd/maven-4.0.0.xsd">
	<modelVersion>4.0.0</modelVersion>

	<groupId>com.javatips.net</groupId>
	<artifactId>cxftutorial</artifactId>
	<version>0.0.1-SNAPSHOT</version>
	<packaging>war</packaging>

	<name>cxftutorial Maven Webapp</name>
	

	<properties>
		<project.build.sourceEncoding>UTF-8</project.build.sourceEncoding>
		<maven.compiler.source>1.8</maven.compiler.source>
		<maven.compiler.target>1.8</maven.compiler.target>
	</properties>

	<dependencies>
		<dependency>
			<groupId>org.apache.cxf</groupId>
			<artifactId>cxf-rt-frontend-jaxws</artifactId>
			<version>3.3.6</version>
		</dependency>
		<dependency>
			<groupId>org.apache.cxf</groupId>
			<artifactId>cxf-rt-transports-http</artifactId>
			<version>3.3.6</version>
		</dependency>
		<dependency>
			<groupId>org.springframework</groupId>
			<artifactId>spring-web</artifactId>
			<version>5.2.6.RELEASE</version>
		</dependency>
		<dependency>
			<groupId>org.springframework</groupId>
			<artifactId>spring-context</artifactId>
			<version>5.2.6.RELEASE</version>
		</dependency>
		
	</dependencies>

	
</project>
Create a Student Object
package com.student;

public class Student {
  private String name;
  public String getName() {
    return name;
  }
  public void setName(String name) {
    this.name = name;
  }
} 

Create a Service Interface
This service interface will defines which methods of web service, to be invoked by the client
package com.student;

import javax.jws.WebService;

@WebService
public interface ChangeStudentDetails {
  Student changeName(Student student);
}
Implement the Service Interface
Here we implement the service interface created on the previous step
package com.student;

import javax.jws.WebService;

@WebService(endpointInterface = "com.student.ChangeStudentDetails")
public class ChangeStudentDetailsImpl implements ChangeStudentDetails {
    public Student changeName(Student student) {
      student.setName("Hello "+student.getName());
      return student;
    }
} 
Create a cxf.xml
CXF is using Spring internally, Finding classes by spring we need to add service implementation class on "jaxws:endpoint" tag
<beans xmlns="http://www.springframework.org/schema/beans"
    xmlns:xsi="http://www.w3.org/2001/XMLSchema-instance" xmlns:jaxws="http://cxf.apache.org/jaxws"
    xsi:schemaLocation="
http://www.springframework.org/schema/beans http://www.springframework.org/schema/beans/spring-beans.xsd
http://cxf.apache.org/jaxws http://cxf.apache.org/schemas/jaxws.xsd">

    <jaxws:endpoint id="changeStudent"
        implementor="com.student.ChangeStudentDetailsImpl" address="/ChangeStudent" />

</beans>
web.xml
Modify web.xml file to find CXF servlet and cxf.xml
<!DOCTYPE web-app PUBLIC
 "-//Sun Microsystems, Inc.//DTD Web Application 2.3//EN"
 "http://java.sun.com/dtd/web-app_2_3.dtd" >

<web-app>
  <display-name>Archetype Created Web Application</display-name>
  <context-param>
        <param-name>contextConfigLocation</param-name>
        <param-value>WEB-INF/cxf.xml</param-value>
    </context-param>

    <listener>
        <listener-class>org.springframework.web.context.ContextLoaderListener</listener-class>
    </listener>

    <servlet>
        <servlet-name>CXFServlet</servlet-name>
        <servlet-class>org.apache.cxf.transport.servlet.CXFServlet</servlet-class>
        <load-on-startup>1</load-on-startup>
    </servlet>

    <servlet-mapping>
        <servlet-name>CXFServlet</servlet-name>
        <url-pattern>/*</url-pattern>
    </servlet-mapping>
</web-app>
Publishing CXF Web Service
Deployed CXF Web Service